Forest Fires in Lebanon
On the 28th of July 2021, a massive fire broke out in the Qobaiyat area of Akkar, in northern Lebanon. The fire claimed kilometer-long swaths of highly biodiverse forest, tens of thousands of pine trees, homes, and the life of one 15-year old volunteer. "The situation is very challenging and worsens every year," said Dr. George Mitri. "In the past decade, we've seen higher frequency of heat waves, longer drought seasons, sometimes six to seven months of dry days without precipitation." Dr. Mitri, whose team has produced annual fire reports since 2000, observes that climate change is creating vulnerability all the way up to high-elevation forests. "In our recorded history of fires, we've never seen fires in cedar, juniper, and fir forests, but in the past two or three years we've seen them in flames," he says.
Nearly two years ago in October 2019, over 100 forest fires in the Chouf came as a red-hot warning, laying bare how under-resourced public firefighting forces are in this country and helping spark the Lebanese revolution. Yet, due to governmental ineptitude and the grave crisis plaguing Lebanon ever since, our national capacity to fight the flames has not changed.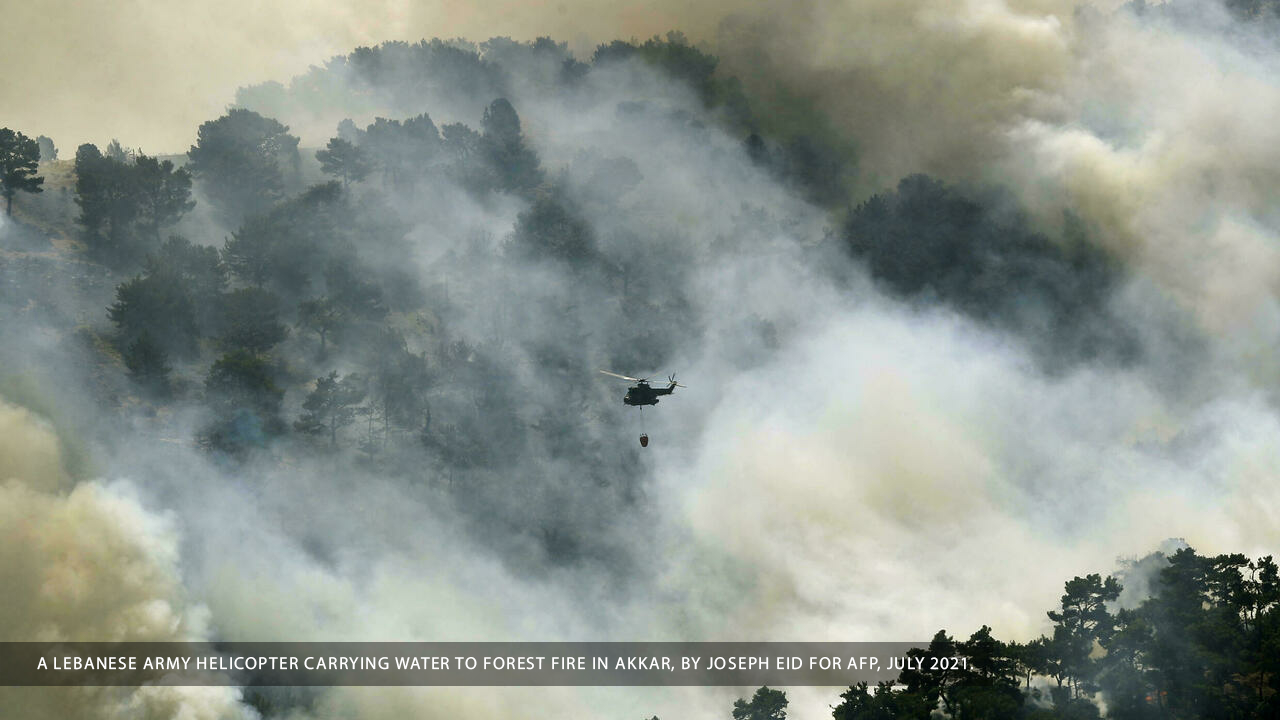 Forest fires are natural ecological occurrences that have shaped healthy ecosystems since 400 million years. In fact suppressing fires causes dry biomass to accumulate which sparks larger fires afterwards. Land-based and indigenous people in America and Africa have long conducted prescribed burns to fertilize soil, reduce future flammability, and stimulate healthy ecological succession in forests. However, as with most ecological trends, human presence on earth has altered fire behavior. Tinderbox conditions created by climate change are increasing the risk of wildfire and lengthening fire seasons. (Paradoxically, studies have shown a nearly 25% decrease in global areas burned by wildfires in the past two decades, but scientists attribute this to the conversion of fire-prone woodlands into agricultural land.) Independent from land-area statistics, overall fire risk and fire danger are on the rise. And the consequences of increased risk may prove disastrous. Uncontrolled wildfires can wreak havoc on local ecosystems by wiping out endemic native species and animal habitats in the blink of an eye. They are equally devastating for the human communities that have found home in urban-wildland interfaces.
Until recently, the historically water-rich Lebanon has remained relatively unharmed compared to drier regions in Australia or the American West. But today, just like Greece and Turkey, the fire landscape in Lebanon has shifted: as revealed by the draft assessment from the IPCC's upcoming 2022 climate report, the Mediterranean region will warm 20% faster than the global average and become a hotspot of extreme heat, drought, water scarcity, and wildfires. Matthew Jones, a research fellow at the University of East Anglia, told France 24 that the number of days during which the Mediterranean region faces extreme fire weather conditions has roughly doubled since the 1980s. Especially as its political structure collapses, Lebanon is ill-equipped to face the emerging fire threat.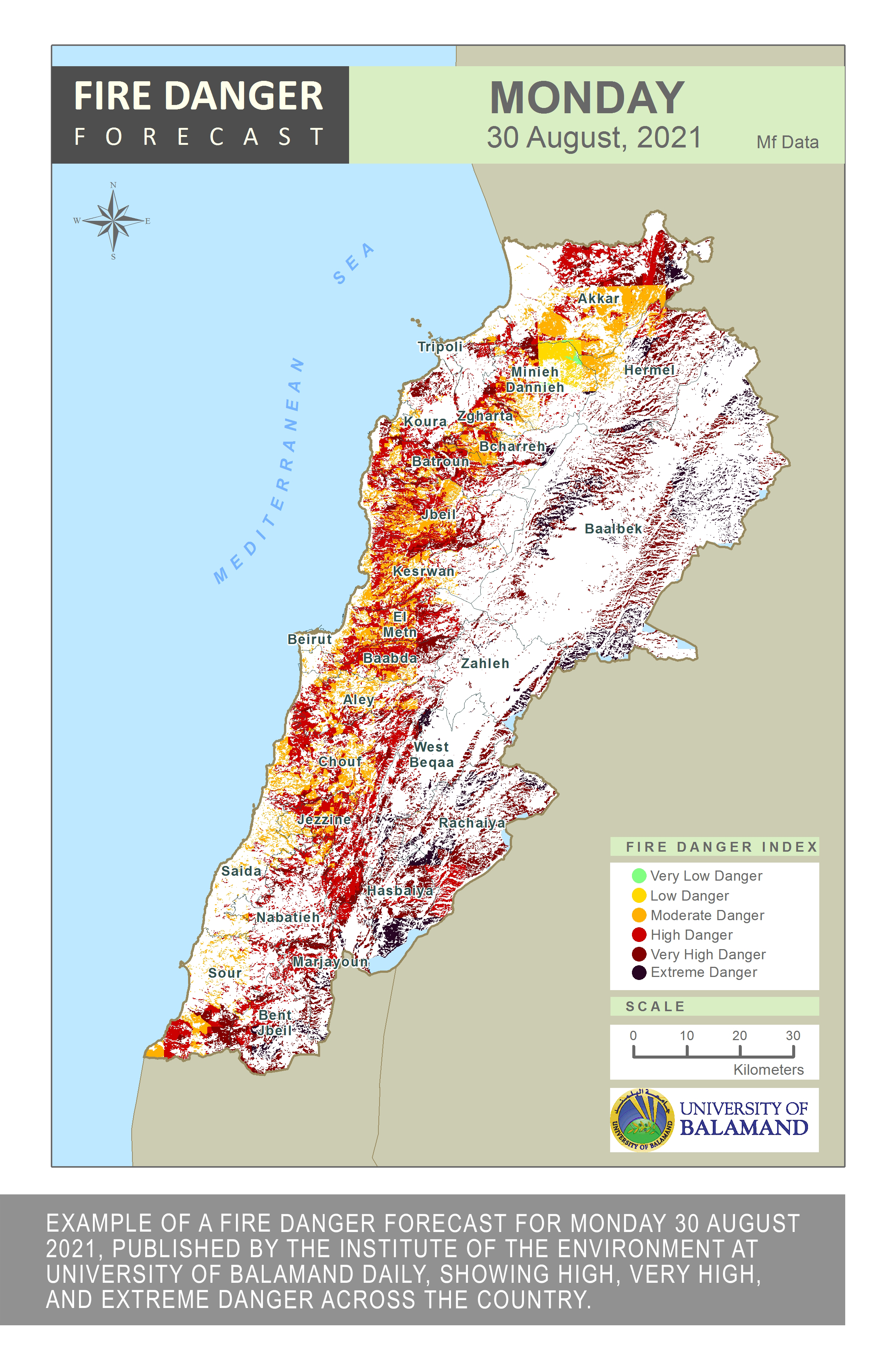 An astonishing 40% of Lebanon's area falls within moderate to high risk of fire. Recreational activities, fireworks, land cleanups by burning, and illegal waste burning are most often the direct catalysts of fire. Indirect catalysts include climate change and less known factors such as the adjacency of natural ecosystems with urban and agricultural areas. "Our forest cover is highly intersected with urban areas, towns and cities," says Dr. Mitri. "We also have a large wildland agriculture interface where many fires start because farmers burn agricultural waste and lose control of fires." The situation is worsened by the fact that we don't systematically maintain our forests for fire resilience. When thick biomass and fuel material such as dry wood are left to accumulate, forest fires are given the perfect conditions to spread uncontrollably. Our outdated laws don't help. "Until recently," explains Dr. Mitri, "one prohibited any pruning or thinning in highly flammable pinus brutia forests, and we couldn't take any preventive measures in advance because of this."
EA and Local Forest Fire Prevention
In July 2021, twelve Lebanese villages joined the AUB-NCC's Environment Academy's (EA) second round. A community-born movement, EA addresses urgent environmental threats by backing up local initiatives with the help of academia, TV media, and diaspora experts. Two of EA2's communities, Btekhnay and Rmeich, are working to create and implement comprehensive wildfire plans in their forests. Environment Academy recruited three Lebanese fire experts, Dr. George Mitri, Joseph Bechara, and Dr. Majdi Abou Najm, and connected with three Australian wildfire professionals to gather knowledge on community-based approaches to firefighting, infrastructure resilience, fire danger, reforestation and more.
Btekhnay is nestled in an iconic pine forest in the Beirut River Valley that has long inspired awe of our natural heritage, from Alphonse de Lamartine in the 19th century to outdoor enthusiasts today. However, the forest is located in one Lebanon's greatest wildfire hotspot, with the latest forest fire occurring in October 2021. The community must live with the risk of wildfire-related damages hanging over its head, as the village is interweaved with the forest, not just next to it. The community team aims to clear the forest of debris, strengthen the forest by planting fire-retardant species, and equip a local firefighting unit that will allow Btekhnay to safely protect itself against future fire threats.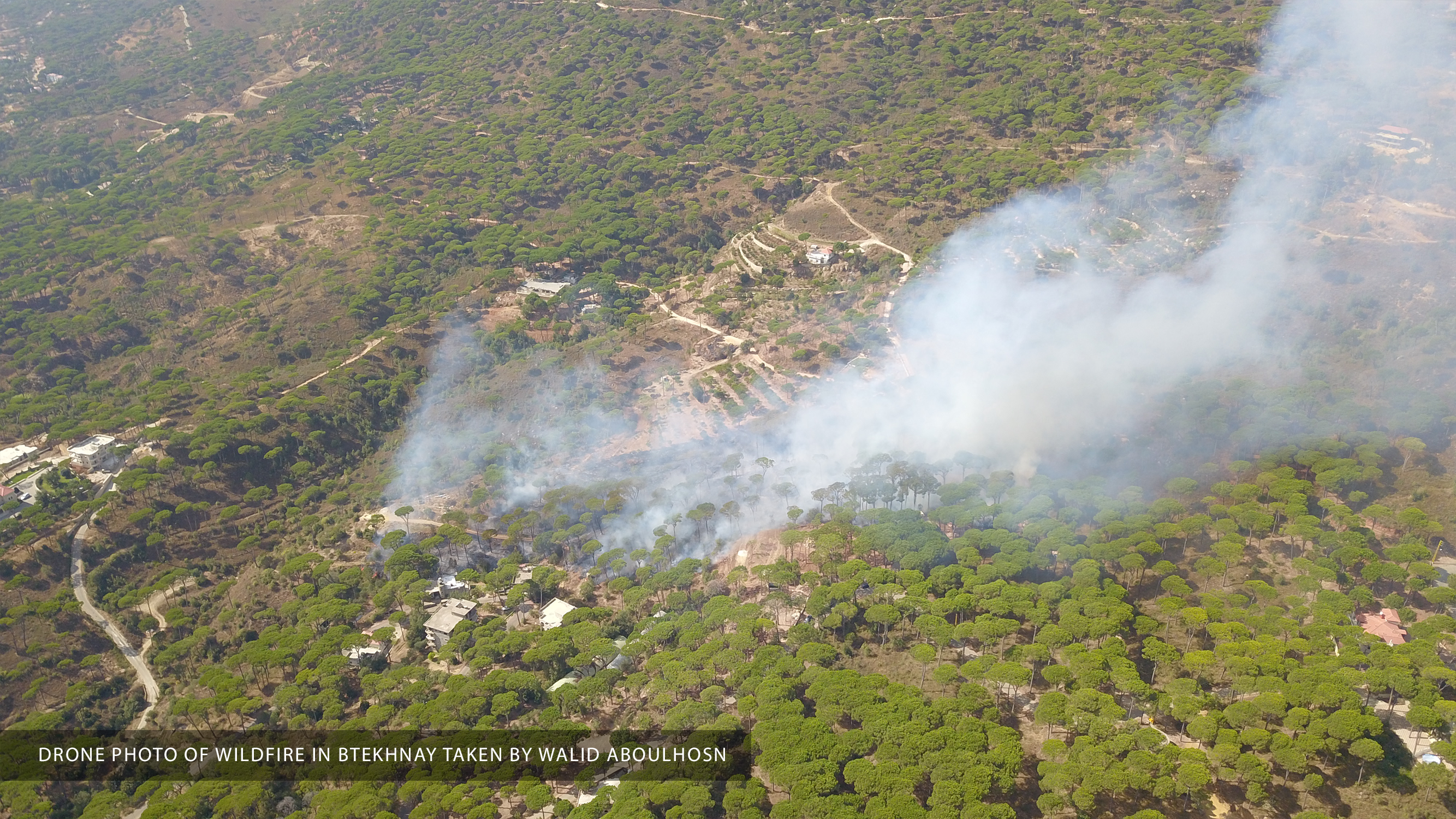 Rmeich is a 12,000-person town located about 4 kilometers from the southern border. The town's urban area contains one of the last remaining forests in the far south of Lebanon, the 170,000m2 "Al Waraa." The forest is threatened by open solid waste dumping and increasing wildfires, the last of which occurred on June 11th 2021. Wildfires--which damage air and water quality, burn small farmers' crops, and endanger the lives of responders--are happening more often in Al Waraa due to strong dry winds and rising temperatures. A sprawling 5000m2 open solid waste dump made up of glass, flammable plastic, and rubber tires exacerbates the risk, contaminates the ecosystem, and disconnects the community from their green space. The team aims to clean the solid waste dump, plant native fruit-bearing forest trees in its place, reduce flammable organic material in the forest, and create local capacity for immediate firefighting.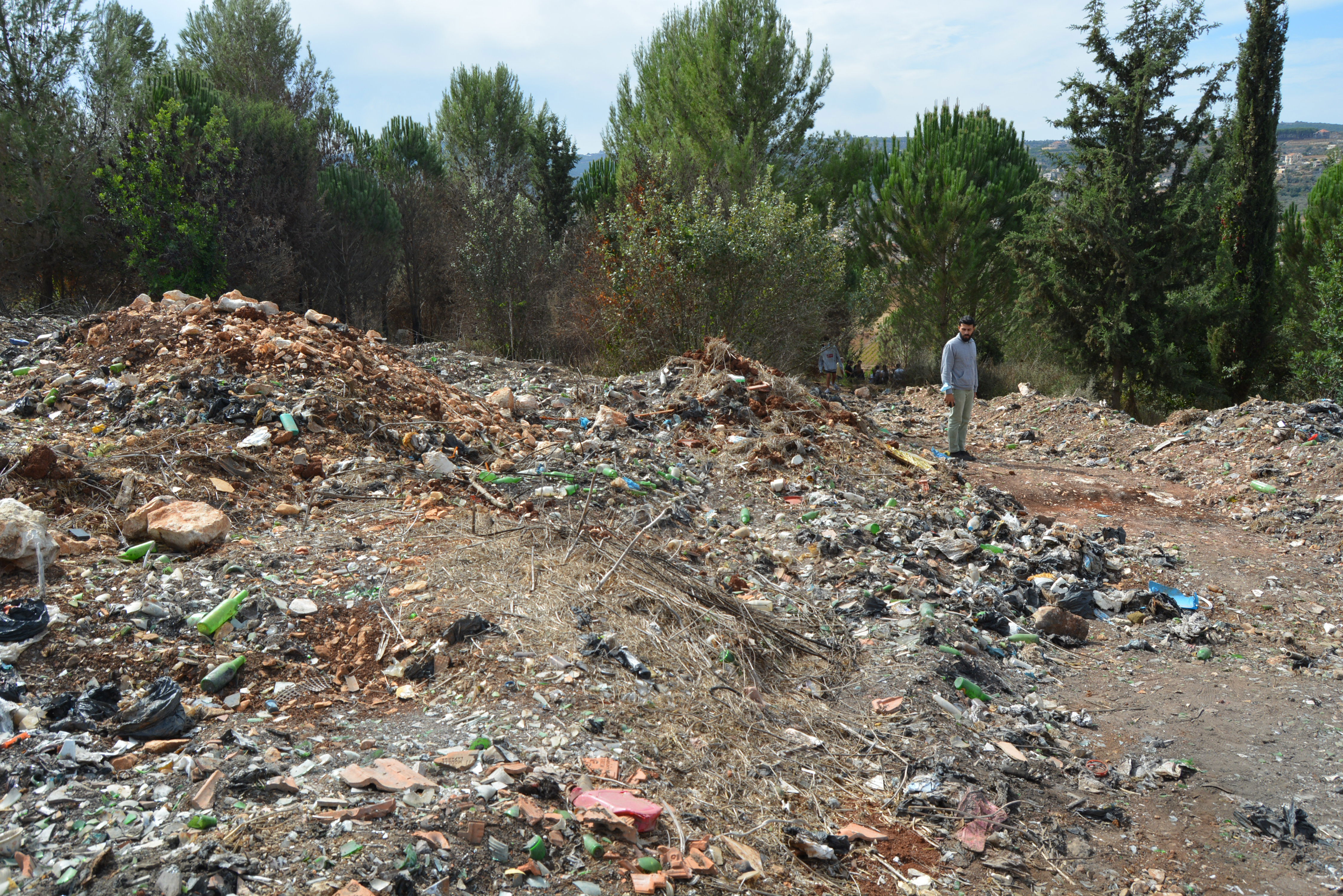 "Environment Academy, although focused on local problems," said Dr. Najat Aoun Saliba, "is actually learning how to face globally important problems." Severe forest fires are here to stay in Lebanon, the Mediterranean, and beyond. One way forward is ensuring that local communities can set themselves up to prevent and fight wildfires when they occur.
Allegra B.
Sources:
Rita El-Hajj, Dalia Al-Jawhary, Tala Moukaddem, Carla Khater, "Forest Sustainability in North Lebanon: A Challenging Complexity in a Changing Environment", International Journal of Forestry Research, vol. 2014, Article ID 212316, 12 pages (2014) https://doi.org/10.1155/2014/212316
Daisy Dunne, "Explainer: How climate change is affecting wildfires around the world," Carob Brief (14 July 2020) https://www.carbonbrief.org/explainer-how-climate-change-is-affecting-wildfires-around-the-world
The Associated Press, "Wildfire in northern Lebanon scorches forest, 1 person dead," ABC News (July 28 2021) https://abcnews.go.com/International/wireStory/wildfire-northern-lebanon-scorches-forest-person-dead-79124669

Dr. Cristina Santín, Professor Stefan Doerr, "Global Trends in Wildfire and its Impacts," The Royal Society Blog (02 October 2020) https://royalsociety.org/blog/2020/10/global-trends-wildfire/

News Wires, "UN report says Mediterranean 'climate change hotspot' will see temps 20% higherthan global average," France 24 Europe (06 August 2021) https://www.france24.com/en/europe/20210806-un-report-says-mediterranean-climate-change-hotspot-will-see-temps-20-higher-than-global-average